Creation Convention, 6th - 8th Feb, Seattle Washington USA
*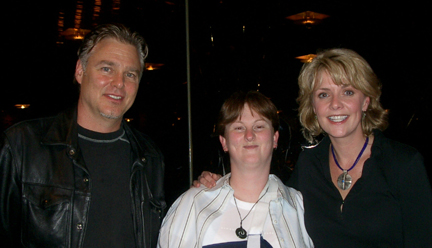 Greg Evigan, Beth et Amanda Tapping
Compte rendu de la Convention par Beth (son site) :
Hey there Everyone,

Well I'm almost recovered now - almost! It was quite a weekend! :)

Now before I start this report let me warn you that my memory from these kinds of things tends to work a bit like a sieve! I always have a terrible time remembering the minute details& even have trouble remembering questions I ask the actors myself! I've no idea why, since normally I've got quite a good memory - but well maybe it's the high of the whole thing. I tend to become a bit of a different person at these conventions... more outgoing, and well... I've completely lost the tag of being known as shy and introverted since I began attending conventions. :)

Anyway, I'll do my best to recall everything I can, and if anyone else was there, or has heard anything from other attendees, then I'd love to hear from them too! :)

Oh, and I apologise for the writing style - I could do a lot better if I spent more time on it, but well I know people want to know how it went, and I just want to get it all down, before I forget the lot, and before my shoulder decides I can't type anymore!!!

Okay - here goes:

Friday, 6th February (Waitangi Day - NZ's national day), 2004:

On Friday morning I awoke at the crack of dawn (actually long before the sun rose), so I could get to Denver International Airport in time for my flight to Seattle. And so, after what turned out to be one of my bumpiest flights so far, I arrived in Seattle. Wow! Rain! I'd almost forgotten how wonderful rain is!!! (I miss the rain when in Colorado so felt very much at home in Seattle)!

Once I was settled at the Doubletree Bellevue hotel I took a quick trip to downtown Seattle to do some of the normal touristy stuff - like going up the Space Needle! On the shuttle ride back to the hotel I met another convention attendee - a British woman who also had also arrived from Colorado that morning.

Back at the hotel I got changed and then had dinner with my new British friend, before we both strolled around the Dealer's rooms on the convention level. Within minutes I was lamenting my lack of spending money - there were so many goodies I would have loved to buy SG-1 and Star Trek related merchandise.

Wandering around the rooms more I spotted an actor I recognized from years ago. I'd completely forgotten he was one of the actors at the convention. Greg Evigan -Tek Wars, My Two Dads, B.J. and my Best Friend Bear, P.S. I Love You, and more. My new friend (Vivienne) and I went up and chatted with him for some time. He was very approachable, charming, interesting and interested, and well he was cute too!

Apart from Greg, the only other actors around on Friday night were Bobby Clark (who played the Gorn in Star Trek TOS), and I think Martin Raynor was there too (Dr Chaotica).

Basically Friday was just a chance to look around the dealers and chat with fellow fans, have a drink at the bar and well just get ready for the next morning.

Saturday, 7th February 2004:

After a delicious breakfast of pancakes and maple syrup I wandered around the hotel a bit, wasting some time, before the noon start of the convention. I happened to bump into a couple of the other actors at the event, Robert Picardo, Bobby Clark again.

Going into the auditorium just before things got going I made sure to keep an eye on the time, since I had to leave to line up for my Photo Op with Amanda. I got to see a couple of the funny video clips they showed, mostly Star Trek VOY related, and also Tim Russ (Tuvok) made a brief appearance to introduce the DVD - Roddenberry on Patrol. I didn't have the time to stick around to watch this, but from the sounds of the audience it was funny.

Heading over to the Photo Op room I needed to line up with the others waiting for their picture to be taken with Amanda. It was another good opportunity to meet fellow fans and chat about all manner of things. The woman in front of me was a former Air Force Major.

When I got to the room where the photos were being taken there were still a couple of people ahead of me, which gave me time to put my things down, and remove my sling (I really didn't want a photo taken with Amanda with my right arm in a sling - due to my shoulder injury). One of the woman with Amanda told me to make sure Amanda knew I had a sore shoulder, as well she'd be bound to shake hands... but of course my mind wasn't working that fast, as I was pretty nervous. And when my turn came Amanda did greet me by shaking hands - but she quickly picked up on my sore shoulder, and was really nice about it. We chatted briefly as the photo was being taken - but I really don't recall a word of it... other than explaining the injury was skiing related. The nerves had really got to me - which was so weird!

Amanda looked great. I always get kinda surprised by how tall she
is. Her hair wasn't long - but not as short as it has been, a little above the shoulders I think.

Thanking Amanda, I got up to leave - almost forgetting all my
things!! Stupid, I know. Another person was with Amanda by then, and I was picking up my things, and putting my sling again when Amanda turned back to me, and asked whether I was Becc... that really took me by surprised, as well not only was it close to Beth - and considering it had been 14 months ago that I'd briefly met her... but the other thing that surprised me was that my best friend with me, back in 2002 ... was Becc!

Anyway, I told Amanda I was Beth, and we both said she'd been really close. And then I headed out of the room. I'd decided not to pass over the folder of messages from the fans right then since there were so many people in the queue, and not much time to get through them. I was sure I'd get another time to do it.

Amanda's Q & A Session:

Back in the auditorium the next part of the show began - and Amanda was first up. She talked briefly, before the questions started to come... and now this is where I'm really going to fall down on my report - as I can't remember a lot of the questions. I'll do my best though.

One of the questions I asked myself had to do with the Chimera episode. I asked who's idea it had been for Sam to hum the SG-1 theme in the elevator with Jack. Amanda explained it was her idea, but at first she'd been planning to hum the theme to MacGyver - but she said she'd not seen the show, so didn't know how it went! (She's not seen MacGyver - wow!!!) She went onto explain that while they were getting ready for the scene she was off camera with Michael Shanks and he was trying to teach her how to hum MacGyver, but she just couldn't get it... so she decided to go with the SG-1 theme. She also said Rick was surprised when she hummed SG-1's theme, obviously wondering what on earth she was doing. (I'm sure
his response would have been even more interesting had she been able to hum the MacGyver theme)!

Amanda was asked twice what SG-1 episode was her favourite, from the whole show. Both times she said Heroes. And she explained a bit of why, without giving anything major away, just saying how it was interesting for each of the characters, and the actors themselves, showing how their respective characters reacted to the idea of a film crew following them around.

At one time Amanda was asked about Pete, in Chimera, and the whole Black Widow curse. She obviously really enjoys the idea of Sam having a boyfriend, and is hoping he returns, so that she can do something about how someone like Sam (who hasn't been in a relationship for so long) deals with being in a relationship. She talked a bit about David Deluise as well, and about how she found out he was the actor chosen for the part. She was on the set of Death Knell, with all the bloody make-up on, and a cellphone was just handed to her and she was told David had been chosen. I think
she said she didn't quite take it all in, as she was so involved in the filming of Death Knell, but she remembered David was from Jesse, and realised who they were talking about.

Another question was to do with the Urgo episode, and working with Dom Deluise. Amanda had nice things to say about Dom, and also told us how Dom had been trying to crack Christopher Judge up a lot of the time during the filming. She was surprised the editors were able to compile an episode from all the filming of Urgo, since they laughed so much.

When she was asked about her directing stint with the Resurrection episode, she told us how she really enjoyed that, and being asked how the guys responded to her as a director she said they were great, and did everything she asked them. Though Rick wasn't in that episode, so she added, who knows what he would have done.

Someone asked if Amanda would have to opportunity to direct another SG-1, but Amanda explained due to the shorter season coming up she wouldn't, but she is looking at other directing opportunities.

There were other questions related to Amanda's plans for the future, and she talked about how she really wanted to get the Random Acts back together, but they were having difficulties with this, because they all lived in different parts of the country.

Amanda told us that she really wants to get back to her roots in the theatre, and she was currently looking at a few options along those lines, and so we should look out for in a little theatre nearby.

One fan asked Amanda if she would be attending Gatecon this year, and she said she was hoping to. Especially as it was the last year for SG-1 - but then she said they say that every year!

Someone from the audience asked Amanda something to do with Peter Deluise, but unfortunately I didn't catch it all. This guy also went up to the stage to show Amanda a picture of himself with Peter, from 21 Jump Street days. Amanda was very amused to see Peter used to have a mullet back then, and said she'd be talking to Peter about that when she saw him next. The guy offered to give her a copy of the picture, and also gave her a video of something - no idea what that was about. Amanda really thought the picture of Peter with a mullet was funny.

I asked another question ... I asked her about the Lowdown shown before the beginning of Season Seven on the Sci Fi Channel, one particular scene - where Rick is dropping his trousers, and it almost looks as if Amanda is helping him. Amanda went onto explain that he needed no help and that this was nothing unusual, as Rick was somewhat of an exhibitionist, and was dropping his trousers all the time... she went on to say maybe we didn't want to know that! And then she explained that this time in particular had something to do with his latest knee surgery.

Someone asked Amanda something about the differences with living in
Vancouver or Hollywood. She said she had lived in Hollywood years ago, and didn't really like it, but she enjoyed living in Vancouver, as once filming is over you can just get on with life as normally as anyone else. It's not all about premieres and parties and so on. She is able to go of kayaking, or hiking with Abbie.

On being asked what direction she felt Sam would like to take with her career in the show, Amanda explained how she'd like it if Sam got back to the science more, and she wants Sam to make some amazing scientific discovery.

When someone asked what was the hardest part of working on SG-1, Amanda grinned and quickly said Kissing Rick. Of course she assured the audience that wasn't the case - and went on to say that it was probably getting the techno-babble down was the hardest, but also she found it really awkward to do scenes like several of those in Chimera. Amanda explained she wasn't really comfortable with playing the sexy scenes. She much prefers being in the BDUs on camera - and said while filming in the dress on Chimera she asked someone at one stage whether it would seem weird for her to be holding Sam's gun. She talked about her zen moments with the gun, which she thinks is kind of strange since Amanda hates guns.

Also related to the fact that Amanda gets to kiss some of her male co-stars, someone asked how she dealt with that, in her marriage to Alan, and how Alan dealt with it. Amanda talked about how it's her job, and Alan realizes that. But also went onto to tell the audience about how she, Alan and JR Bourne were watching Stuck together, and she felt rather odd watching the love scene in the elevator with both Alan and JR there. She mimicked how Alan and JR reacted, she was very funny, showing how JR was edging away from Alan, and Alan was watching the screen intently, then looking sideways at JR.

One other question related to how she made time for her personal life, around the long hours of filming and preparation for filming. Here Amanda said how she was very lucky to have a partner who was so supportive, though she admitted Alan had found it harder earlier on. Amanda talked about how it's a matter of partitioning your life, time for work, time for exercise, time for Alan and Abbie, etc.

There was a question about what kind of shows Amanda likes to watch herself when she has the time. Amanda said she watched The West Wing, and felt the show was intelligently written. She went onto say she was getting back into E.R, and watched the Documentary Channel a lot too.

Amanda was asked when filming was due to start for the eighth season of Stargate SG-1. Filming begins again on the 8th March.

At another stage someone asked about the episode Changling, and wanted to know where to spot Alan. Amanda explained that Alan was the firefighter shown coming down the fire pole, and running off. She also went onto say that other extras on the set really thought Alan was a fireman, since he's a big guy.

On being asked who was her favourite guest-star to work along side, Amanda said Carmen Argenziano was. She particularly liked some of the scenes Sam had with Jacob in Grace.

Amanda also said that she loved it whenever the script called for scenes with the four of the core cast members. But then she explained that just recently one of the directors was telling her that whenever they see a scene calling for the four of them they worry! And they always have to schedule a much longer filming time as with the four of them together they take a lot longer, due to all the laughter.

Talking about the practical jokes on the set Amanda talked about Christopher Judge, and how he's probably the biggest practical joker. She then went on to tell the audience about something that actually backfired on him. This is where Amanda explained about Chris - excessive flatulence, and how during one scene where he had to wear a NASA suit he turned very green after letting one off while inside the suit. Amanda also said something similar happened during another scene where Tea'c was strapped to a bed in the infirmary, and he let one go, and this cleared the room, camera people, other actors and directors, everyone left the room& and of course Chris was still there, strapped on the bed with no escape.

At another stage someone asked Amanda about the relationship between Sam and Jack. She talked about how it was clear that Sam and Jack loved each other, but because of their positions there was nothing they could do about it at that stage. Amanda also talked about the scene between Sam and Jack in Grace, and how it was kind of Jack saying that Sam could move on.

This was also a funny point as Amanda remembered that one of the fans at the convention had been an Air Force major, and when she spotted her in the audience she asked her about the issue of an officer having a relationship with a superior officer. And this woman explained how it isn't that rare, and that she herself had dated her boss'boss at one stage. Amanda loved this, and kept saying she'd have to tell the producers this!

Well I went away from the laptop for a day and now I've remembered a few more questions Amanda was asked.

Someone in the audience asked Amanda about being in other shows, and The X-files was mentioned in particular. Amanda talked about being mostly dead the whole episode, after meeting Skinner at the bar, having sex with him and then being dead. She also commented about being on the morgue drawer, and how that wasn't fun, except for David Duchovny tickling her feet! Amanda also said Gillian Anderson was wonderful.

Another question asked whether Amanda had read any fan fiction. She said she had read one, just one - a Sam / Janet slash fiction. She said it was funny to read, and she'd shown it to Teryl as well. Amanda implied reading that had lasted a long time, but at one stage suggested maybe she could have a look at some other fiction.

When someone questioned Amanda about her trip to Afghanistan, and the combat bracelet she wore for ages, she told us about how the bracelet is made up before a mission, of cords and bits and pieces from the teams uniforms and gear, and each team member wears one until the mission is over. And when she was over there this one combat group asked her to wear one of theirs. Amanda explained how the team made sure she realised it was a combat bracelet, and not jewelry or a friendship bracelet. She talked about this as a very moving experience, and surprising in many ways, and she was very impressed by the people she met over in Afghanistan.

Amanda was meant to be on the stage for just 40 minutes, but as someone else wasn't there to come on afterwards she said she would stay on. It was over an hour by the end of her session.

Other bits and pieces from Saturday:

Afterwards I think there was a bit of a break - honestly, I can't recall the order of some of the things that happened this weekend, and can't seem to find the schedule anywhere. Anyway... not quite sure what happened next.

Oh man - how could I forget - I volunteered myself for a Q & A panel& fans asking fans questions... and getting prizes etc... What on earth came over me to actually volunteer for something that meant I had to get up on stage - wow... I have no idea what I was on! :)

So the thing I momentarily forgot - after Amanda's Q & A, the organizer Richard Arnold got back up on the stage and said at this time there would be a quiz of sorts, but for starters they needed three volunteers, one for Star Wars, one for Star Trek, and for Stargate. For some really strange reason I put my hand up. Really don't know what came over me, but I think it's partly ignorance - I didn't know what I was getting myself in for. Anyway, we were brought up on stage, and sat down in front of the audience (ugh!)... then people in the audience had to think of a question, and ask the expert panel (expert - that sounds so funny), and if we
couldn't answer it then it went to the rest of the audience. The person who asked a question that stumped the panel got a prize, and if someone else from the audience was able to answer it they also got a prize. And well for the panel we had to try and get five correct answers in a row. Well, the majority of the questions were Star Trek related (particularly TOS and VOY - which is probably why I wasn't much help for the ST expert). I think only two or three of the Star Trek questions were answered correctly, and one of them was because the ST expert and I both knew the answer, so guessed we must be right - the question was about Data's daughter Lal, what does the name mean in Hindi - Beloved.

There was only two Star Wars question - I think. The expert was a young boy, and he got one of them right, to do with the animals on the planet Hoth - Tom toms, or however you spell that!

The audience were obviously mostly ST fans as there were hardly any other questions, the two SG-1 questions that were asked I got correct. If there'd been more of them I think we might have got the five in a row... so long as they weren't as tough as some of the other questions - some of them were really hard. Um, trying to think what the SG-1 questions were... um... for the life of me I can't recall them... sorry... but I got them right!!! :)

After this fan quiz session I met up with my friend Vivienne again, and we wandered round a bit. Later, just before the autograph sessions were about to start I quickly headed up to my room to get some things. Just as I was waiting for the elevator to arrive, I got another surprise - the doors opened, and Amanda stepped out - on her way to the autograph session. She remembered me by name again, and said hi.

Autograph Session - Amanda Tapping, Tim Russ and Ethan Phillips:

Anyway, after going up to my room I got back to the auditorium as quickly as possible. The autograph tables for Amanda, Ethan Phillips and Tim Russ were being set up, and then once it was all ready the organizers had those of us in the Gold Ticket section go up to queue one row at a time. There were two rows ahead of mine, so I got the chance to talk to other fans, and to watch Amanda and the other actors with the fans. After the special needs fans went through Amanda quickly got up to go across and meet Tim Russ and Ethan Phillips. She was all grins and smiles as she went back to her table, mouthing to the rest of the audience she'd just got to meet them.

Once I reached the autograph tables there was a bit of a hold up in front of Tim Russ and Ethan Phillips. The guy looking after these two actors took the photo I had and passed it along to them to sign for me. (It's a ST-VOY group cast photo). Eventually I got to briefly say hi to Tim and Ethan, and Tim asked me about my arm (which was in a sling), he hoped I did it doing something fun, and when I explained it was skiing related he decided that was more fun than his injury. Tim was on crutches, due to a basketball injury that had lead to surgery on his Achilles tendon. Ethan also was injured, with his right arm in a cast right up to the thumb since he had a broken thumb I think - from falling over somehow.

Leaving the ST-VOY table there was another brief wait before I was sent across to Amanda's table. The guy checking the tickets there helped me get my photo out for Amanda to sign, and I waited a moment while Amanda finished with the fans ahead of me. (The photo is an old promo picture of Amanda, Rick, Chris and Michael, out of uniform with Amanda cuddling up to Rick).

Again, Amanda greeted me by name and signed the photo, asking me about my shoulder a bit. And then I handed over the folder with all the messages from the fans, and started to explain briefly what it was about. She really surprised me as she said she'd heard about this folder somehow - I wonder how? She seemed really touched to receive this. I also handed over a small gift I had brought over from New Zealand for her, and asked her whether she would be attending the Dessert Fantasy later that evening. Since she assured me she would be there I asked that if she had the time I'd appreciate if she could look at the gifts, so I'd have some feedback for the fans involved.

Lastly I quickly asked if I could get a hug, so Amanda came round the table and gave me a big hug. I told her I admired her so very much, and thanked her for being there. She really did seem touched with the folder, and thanked me again.

Well after that I collected my photo and headed back into the seats, to sit with other fans that had finished getting autographs. Just chatting and well watching the way the actors responded to the many different fans coming and going. It was pretty interesting.

Robert Picardo, Ethan Phillips - Play "House Call":

A bit later (I think the order of this whole weekend is all jumbled in my head), Robert Picardo (the Doctor on ST-VOY, and guest star in SG-1) and Ethan Phillips (Neelix on ST-VOY) came out to give us a performance of a play. It was called House Call, and it was hilarious. It helped if you knew something about Voyager, and the characters of the Doctor and Neelix - but considering I've only seen about 15-20 episodes in all I still enjoyed it immensely. The play was just delivered by the two men standing behind separate lecterns, and at one stage each of them had to sing a bit. This is the second time I've heard Robert sing live, and I have to say he's got an impressive voice!

Following the play Robert stayed up to sing another couple of songs, as Tim was taking a bit longer to get to the auditorium. The audience was more than happy to have Robert sing more. For those who haven't heard him, he has a great operatic style to his voice, but also manages some pretty good rock numbers particularly some Queen style singing. And his songs are parodies, particular of Star Trek related things.


Tim Russ - the hobbling guitar playing singer:

Tim Russ eventually made it to the stage - hobbling along on his crutches, and picked up his guitar to perform a few tracks from his albums. He has a good style, though I was a little critical of the sound system - but that wasn't his fault. If I'd had some more money to spend it would have been very easy for me to buy both Tim's and Robert's CDs - they are both good performers.

During Tim's performance his little daughter Madison came to sit with the woman sitting beside me (a fan who has met Tim and family many many times). So it was kind of nice sharing my seat with little Maddie, she's a real cute kid. Her mother was around too, and she spoke to me a bit later on, as she'd had surgery on her shoulder recently herself, and was giving me pointers for my injury.

Well with the performances out of the way it was time for those of us with the Gold Weekend Passes to head up to another room where we'd be having a Dessert Fantasy.

The Dessert Fantasy (voir aussi l'anecdote de Kim sur cette soirée):

By the time this came about most of the fans around me were very hungry - not having time to grab a bite to eat between the various shows and activities. There were three flavours of ice cream, chopped up Oreo biscuits, and chocolate chips, and other bits and pieces, plus whipped cream and sauces for on top.

At first it was just the fans mingling round, finding friends, and chatting. It wasn't too long though before some of the actors started arriving, I think Ethan was first, and before long Amanda came through. I was still eating, and chatting with my new found friends, but noticed Amanda was chatting with the woman who had been an Air Force Major, so didn't bother her.

Vivienne wanted to get pictures with some of the other actors, and so did I, so we went around talking to the others a bit. Robert Beltran had also arrived by now, and since I was going to miss seeing him the following day I wanted to get a picture with him. I also talked with Greg Evigan a bit more too, and as I was wandering back to my table to have a bit of my drink Amanda caught my attention (she was still talking with someone else), she mouthed to me to stick around as she wanted to talk to me. It was kind of good that I've learnt some lip-reading, as someone else beside me totally mis-read Amanda's message to me. Anyway, I was more than happy to stick around, and continued chatting to the others.

I spoke to Robert Picardo and Robert Beltran again, and also Ethan and Tim. Ethan was a real tease. He didn't get my accent right - not at all surprising as no one does - no I take that back, one person did that weekend. Anyway, Ethan was saying how he'd like to come down to New Zealand, and so I told him he should come down to one of our conventions, to which he responded: but then I'll have to listen to the kiwi accent all day! We also got a photo of the two of us, with matching damaged right arms.

When I wandered back over towards my table again Amanda was talking with Greg now, and that's when I got to talk to her again. She gave me another hug, and thanked me (and all of us involved) for the folder again. Amanda explained she had started reading it already, and was amazed at the work that went into it. She said she'd try and put something up on her Official Website, as a thank you.

Greg, and one of the other people with us, wondered what we were talking about so Amanda started to explain, but then got me to finish explaining it all. She really was impressed with it all, and touched that the fans had gone to the effort of putting something like this together.

Amanda also thanked me for the little gift I'd brought her, and was
surprised that I had made it myself - it's a necklace made up of pieces of Paua (like abalone but richer in colours - greens and blues and purples), with little blue beads, all on a silver string. I was really pleased to get her response, and it was nice to hear her telling the others about it.

Amanda and Greg had been talking about the idea of getting Greg to guest star in SG-1, and Amanda seemed pretty keen on the idea, and even suggested getting rid of Pete, so that Greg could come in. She commented on how cute he was on more than one occasion.

At another stage someone arranged to get all the actors (Amanda, Robert Picardo, Robert Beltran, Ethan Phillips, Tim Russ and Greg Evigan) into a group so we could get a group picture. It took awhile to organize, as everyone was scattered around the room, and other fans were taking individual photos, but when they all got together we got a good opportunity for a group photo.

Later on I got another chance to chat with Amanda, and got to ask her about a question I've been wondering about for ages. We talked about sign language, and her part in the stage version of Children of a Lesser God. We particularly talked about the different signs - signed exact English, and sign language. Amanda only learnt SEE. And as we were talking about this Amanda asked me if I was the one who asked a question about this in the Q & A. At first I thought she was referring to the online Wolf chat, as someone had asked a question related to this then, but then I realised she meant the questions submitted through her official website, so yeah I told her that was me. Amanda said she'd not got round to answering those questions yet, but she would try to soon.

The actors were starting to leave by this time, but I spoke a bit more with Greg. When Amanda headed out (the last actor to leave) we said goodnight, and I got another hug! She must be a huggy person - which is fine by me since I am too. She thanked me again for everything, and said she owed my parents an ink cartridge, as she'd remembered I was using their printer to put the folder together! :)

Winding Down for the night:

A few of us really needed an opportunity to wind down after such a full on day, and so some of us went along to the bar for a drink and to chat some more. We talked about everything - television, films, politics, schooling, travel, different countries... it was definitely an interesting evening! It was nearly 1am by the time I got back to my room, and well I didn't think I'd get to sleep for ages as I was still pretty high from the whole day, but exhaustion eventually took over and I slept through until 8am (really early by my normal standards)!


Sunday, 8th February 2004:

Again Vivienne and I met up for breakfast - well she worked out in the gym for a while before I even got up! Some of the actors were around in the morning, but we felt it wasn't really right to bother them then, so we enjoyed a quiet breakfast and then headed back to our rooms. I was feeling pretty restless in my room, as I'd already got everything packed and ready to leave in a few hours, and so I decided to go wandering round the hotel again. I went out to the pool - very tempted to go for a swim, but well it was too much effort (yes I was feeling lazy), so I went back in through the hotel and out toward the reception where there were some comfortable chairs, and I'd seen some brochures on touristy stuff, as well as Vancouver stuff (well I'll get there one day)! And I had to check something about my stay with the front desk.

As I was looking through some things out there, Amanda came down to check out. She said hi and asked how I'd slept, and how my shoulder was. We talked a little, but I left her to check out mostly, and saying bye(getting another hug too) I continued wandering outside. I went outside to the courtyard out front, and walk in the rain a bit (yes I really miss the rain in Colorado - and so was making use of every opportunity I got)!

I was pretty much in my own world (a normal occurrence when I'm walking in the rain) just strolling round the front of the hotel, and well again Amanda was there. I've got kind of worried about this - as I wouldn't want it to seem I'd intentionally been in the same place she was again - it really was unintentional. She waved, and asked if I would be at Gatecon this year, which well I think my sad face gave all the answer she needed - so she told me she'd have to come down to Armageddon again soon (Armageddon is the convention held in NZ twice a year).

I waved as Amanda drove away with a friend she obviously drove down from Vancouver, and wished her a safe journey.

And well that was the last I saw of Amanda for the weekend, but the weekend wasn't quite over.

I was only able to stay for a couple more hours, since I had to be at the airport by 2:30pm, but I got the chance to watch another one of the movie clips they were showing, and to wander around the dealer's room again - wishing all the while I had more money to spend - warning for self: next time I attend a convention, leave credit card at home!!! :)

Unfortunately I wasn't there for the Q & A done with Robert Picardo and Robert Beltran, or their autograph sessions, but my new friend Vivienne was able to get those autographs for me, and that was great. I had to leave the auditorium in the middle of the group panel with Greg Evigan, Bobby Clark, Martin Raynor, Peter Mayhew, and Scott MacDonald, which was a shame, but as I was leaving the hotel I met Greg again and got a great goodbye hug from him which was really nice.

The weekend was wonderful - I met some great new friends, people I intend to keep in touch with for a long time. Paying the extra money for the Gold Weekend Pass was a great idea, as it really did come with some great benefits.

I met some fascinating actors, Greg and Martin Raynor were definite bonuses I'd not expected - being interested in the business I really enjoyed talking to them about the ins and outs of the industry, and I even got some pointers for the future.

Meeting Amanda again was the best, better than I could have imagined. And while it's kind of hard to explain the impression I got from Amanda about the folder full of messages from the fan, I want to assure all of you who took part, she really did appreciate it, and assured me she would try and get something up on the official website as a thank you.

Meeting her again just re-confirmed in my mind that Amanda is one of the most amazing people I've ever met.
Beth
*